We transform smiles with our teeth in a day treatment – creating and fitting new dental implants in just one day. With over 1,200 implants placed successfully at The Courtyard since 2012, we're dedicated to consistently improving each step of the process and our investment in dentistry technology has been recognised by Westminster. But what happens on the day?
­Who are same day teeth suitable for?
Firstly, we recommend same day teeth to any patients who suffer from loose dentures, missing teeth or even failing bridges, which have unsuccessfully bridged the gap created by missing teeth.
Most of the patients we see at The Courtyard for full teeth replacement services are those who are having problems with loose, wobbly or badly-fitting dentures – which cause problems with eating and speaking.
Other patients choose a full set of teeth as an alternative to dentures, for example if their teeth have been affected by gum disease. They're perfect for patients who've reached their retirement and want to get their teeth sorted without any fuss, or for patients who have suffered from an accident resulting in missing teeth that need an instant solution.
Teeth in a day isn't the only option of course – there are plenty of other choices which can help treat smaller dental issues, such as veneers and implants.
If you're not sure, you can always book a free consultation for some honest, expert advice from a qualified cosmetic dentist before making a decision.
The Courtyard approach to teeth in a day
As with any of ­The Courtyard's dental treatments, talking to you, understanding your concerns, and setting out what you want to achieve is essential for any procedure. Every patient is different, so learning your dental history, providing honest advice and answering any questions you may have is the best way to start the process.
For teeth in a day, our team will take a digital impression of your mouth using our advanced CBCT bone scanning equipment. We can then design your new smile on screen in CAD-CAM in our digital implant lab. Imagery and models of this vision are presented to you within days of your digital scans, so you can see what we're able to achieve before we even pick up any implants.
This guided approach, using cutting-edge technology, allows the team to see the unique characteristics of your mouth such as the type and shape of your gums, bone density, the amount of bone and your bite – which allows us to see just how we can achieve your perfect smile. It also highlights any issues we need to look at before commencing treatment.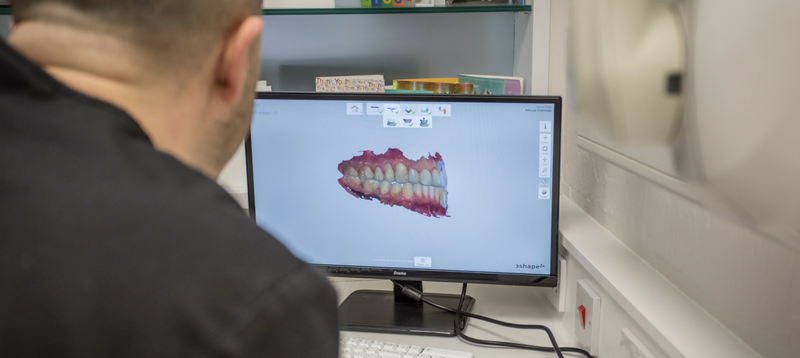 We then use this technology to plan the positions of your implants and 3D print your initial implant bridge. We fit a fixed and cosmetic prototype of your final bridge on the same day as placing your implants – this could be just weeks after your initial consultation.
We'll book you in for a morning or afternoon at your convenience – the whole procedure is normally carried out in half a day. Depending on what you need, four to six implants will be placed into your jaw with a component to connect a ready-made arch of teeth. We splint the implants together, meaning they can function straight away.
The treatment is performed under local anaesthesia and we'll provide you with pain relief. We'll also call to check in on you and how you're feeling afterwards. Any pain during the procedure is usually minor and only temporary, but we ensure aftercare is tailored for a successful treatment. It's normal to experience discomfort and swelling for a few days after the treatment – this will subside as your mouth heals.
A few follow-up appointments are needed over the following months to fabricate your long-term implant bridge.
Overcoming odontophobia
It's just a fact that some people don't like going to the dentist. In fact, 12 per cent of people suffer from an extreme dental anxiety. While same day teeth may sound appealing – getting everything sorted in a single day rather than over multiple visits – however, our team does understand the worry that receiving a lot of intensive work in a small space of time could be painful.
With same day teeth, as with all our treatments, it's important to us to help reduce any fears or anxieties you may have. One of the ways we do this is by explaining everything involved in your treatment – the more you know about what you're going through, the less daunting it will be.
­
What will I pay?
We've invested £250,000 into our equipment so that we can work more efficiently. And we are keen to pass the savings onto you. Originally priced at £11,500, we've been able to reduce the cost to £8,900 as a result of our improved procedures.
­This price is all-inclusive, covering every aspect of your new smile, and any appointments needed. You also receive a five-year warranty on their same day teeth service, so if there any issues during the five years after the procedure, you're covered at no additional cost.
­
The Courtyard has monthly payment options to help you spread the costs. Our most popular finance package features a deposit, with the rest payable on the clinic's 0% interest finance over 24 months, at a monthly cost of £368. Other choices include a £222 monthly payment plan over 48 months.
Why should I get teeth in a day?
We've talked before about how teeth in a day is a gamechanger for both dentists and patients. As Marcos White, owner of The Courtyard, said: "We feel so lucky to be given the opportunity to help patients regain their smile with same day teeth.
"We see on a daily basis the emotional impact being forced to live with a denture can have on a patient.
"This combination of a hi-tech and personal approach is what has gained us our strong reputation in this field. It's not the awards we care about, as much as the fact that happy patients tell their friends that if they need an implant, they should call The Courtyard."
If you're thinking of going ahead with same day teeth, you can arrange a free consultation to discuss what's best suited for you, as well as ­The Courtyard's affordable payment plans.