Life in a dental practice can be very rewarding work, especially when you're able to see the effect it can have on patients and their smile. Whether its drastic changes, some minor adjustments which make a massive difference or even just seeing people feel confident about how their smile looks, it makes our jobs feel truly worthwhile.
While we've achieved some big things so far this year and have got bigger plans on the horizon, we've also been busy outside of work, doing our part for charity where we can. A busy team and lots of patients to see has meant we've not had a lot of time to talk about what we've been up to outside of the practice, so here's a look on our recent CSR efforts.
Marcos – London Marathon
Marcos is currently underway with his training for this year's London Marathon, which takes place on Sunday 22 April. Our practice owner is taking part in the 26-mile race which starts in Blackheath, London for the charity npuk which helps those who are affected by Niemann-Pick disease.
Niemann-Pick diseases are a group of rare inherited disorders that can affect both children and adults. There are many different symptoms caused by a deficiency of enzyme acids, which can affect the brain, liver, spleen and lungs, and in some cases is fatal.
Marcos stepped up to take the challenge after a friend, who was originally running to raise money for the charity, broke her leg. He says:
"I knew I had to step up and do my part to help raise money for the great charity. I'm running personally for a child I know who has the condition, and I'm aware of the great work the charity does to help make a positive difference to those who have Niemann-Pick disease. For me, it's a great personal challenge to tackle a marathon, and I hope the money raised from my run can help provide further support."
He's been training three times a week, running 10 miles in the dark of night after putting his children to bed in preparation for the big event, and we'll be posting regular updates on our social media if you want to see his progress!
And if you want to donate to Marcos' page, click here.
Gina – 40-day Lent Challenge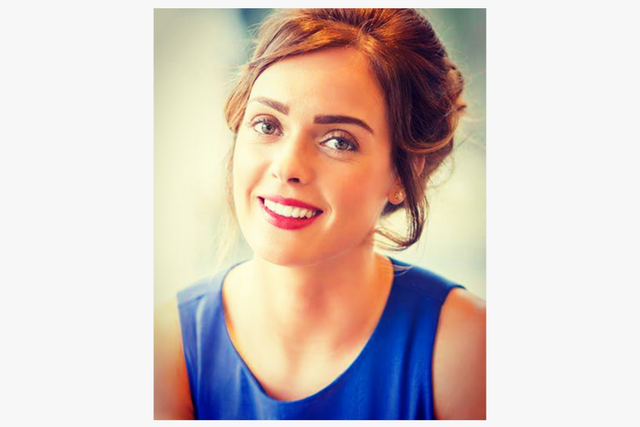 Our treatment coordinator Gina has been helping the homeless by undertaking a challenge for Lent. Since the start of Ash Wednesday on 14th February, Gina has been finding one item every day from her possessions that she no longer needs and has collected them to give to the Ebenezer Church in Halifax, who will then pass on the items to homeless people in the local area.
Speaking about the decision, Gina said: "I wanted to do something to help those who are less fortunate than myself, rather than use it as a way to give up chocolate, for example. Even though my contribution may be small, I know the items I've provided so far can be used to provide help to people on the streets.
"I'm currently nearly halfway through the process so far and I've managed to include jumpers, scarves, a quilt and tinned food. I know by the 29th March when Lent ends, I should have a collection of items that can go some way to helping those who are homeless."
The Courtyard team – 465,000 Step Challenge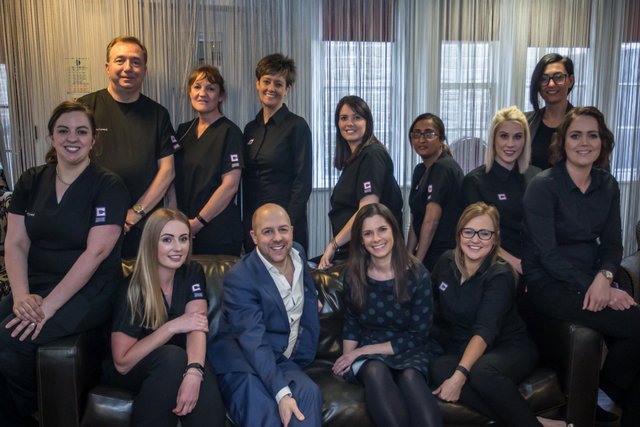 In March our entire practice is doing its bit for charity by undertaking a 465,000 step challenge. Involving all 15 members of The Courtyard team, the aim is for each team member to walk 31,000 steps throughout the month during work hours – or 15,000 steps a day for the entire practice.
The challenge is for someone close to home, to help raise funds for Craig, the brother-in-law of our hygiene therapist, Kirsty, to support his family following a diagnosis of terminal cancer. The JustGiving page set up by a family friend is available here, and any contribution to help provide some great memories for the family would be greatly appreciated.
The money raised from the challenge will also go to support the work carried out by Cancer Research UK. We've provided some details on our Facebook page about the challenge, but will give you more updates closer to the time. Don't forget, you can always ask us when you visit the practice too!
The Courtyard team – Providing Dental Care for Homeless People in Huddersfield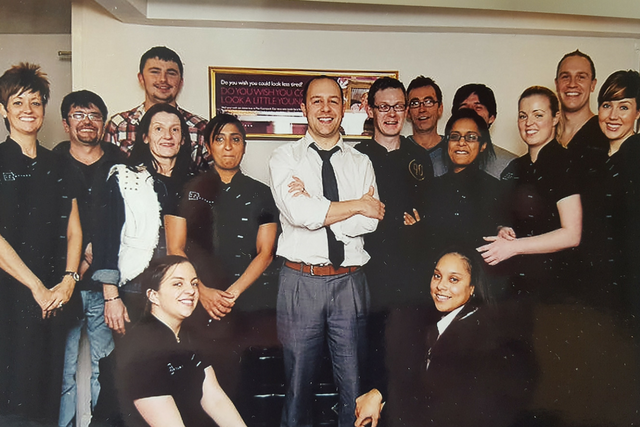 When Marcos first took over the practice back in 2006, one thing that was on the agenda was to give something back to the community, using the skills the dental team had at our disposal. So, we came up with the idea of providing free dental care for people experiencing homelessness in Huddersfield.
With the team just four people strong at the time, we opened our doors for several people to come in and have dental work free of charge. The team performed a number of different dental treatments to help with oral hygiene and help repair damage that had been caused by neglect or decay over time.
Sarah Mann, our treatment coordinator who was part of the team who helped carry out the dental work, reminisced about the day:
"It was a great thing to be involved in, and to do something different. Of the people we saw on the day, they all appeared to have poor daily dental care.
"This is because there a number of factors which make it difficult for homeless people to have access to dental care, such as poverty, embarrassment, fear, and living a chaotic lifestyle which can lead to significant issues. It felt great to help people have access to treatment that they wouldn't normally be able to."
The Future
Even though we are undertaking some events in the near future, we'd love to hear some suggestions you have for us charity-wise, so why not comment our latest post on Facebook? Here's to helping those less fortunate and giving people something to smile about this year!