When you're able to choose between staying with your existing NHS dental practice, or moving to a private dental practice – it can be difficult to decide whether to make the move. Having made the transition from a NHS practice to a private practice ourselves, we can understand the benefits of both. Being a private dentist for 11 years now, we prefer how much more we can interact and develop a relationship with our patients than we could before.
With over 11,800 dentists in the UK, there's plenty of choice, but 63% of adults have admitted that they use NHS dentists rather than private due to cost reasons – which can narrow down the choices available.
So, what should you expect by choosing to go private? Here, we'll look at the benefits of using a private dentist for check-ups, why it's more affordable than you think, the quality of care and the aim to provide better patient experiences, and conquer the fear of the dentist.
More time to spend on patients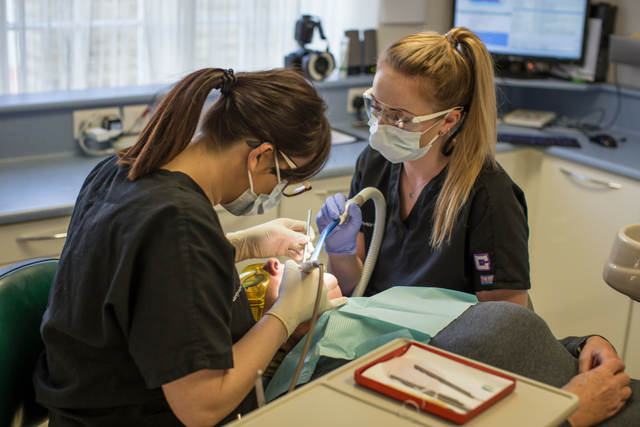 We can organise our own calendar and allows us to spend time with our patients, and give them the support they need – so we can ensure that they have a great patient experience.
Having experienced similar issues before or being informed by patients, using NHS dentists in the past has made them feel like their treatments were spaced out due to unavailability in the calendar, or appointments were rushed for the same reason. We sympathise with the NHS practices as we're fortunate not to be under the same pressures, but thankfully, we can offer patients the time they need to talk through the best course of action, get to know you and identify what you want to achieve from treatments.
Having more time to get know you in a check-up or any other treatment means we can look at your previous dental history in detail and talk through your concerns, we do have nervous patients and we do our utmost to allays any fears that you may have.
Marcos White, practice owner and lead cosmetic dentist at The Courtyard talks about why going private has meant a better patient experience.
"I had a business I didn't believe in, with a way of doing dentistry I felt could be done better, so I tore it down and started again. I built a building I wanted to spend time in, and a team who cared about people and wanted to do things better, and we built a base of patients one by one. The way we cared for our patients encouraged them to tell others that there's a place where you can have your dentistry done by people who care, and you trust.
"I wanted to create an environment where my patients feel safe and have ownership of the practice, they are part of the practice, with our expertise at their fingertips.  It's about loyalty, trust and permeance to give the best possible patient experience.
"We're a membership only practice, which means our patients pay monthly for check-ups, hygiene and ongoing care. You can't just turn up and buy a check-up or a filling, that's not how to provide good dentistry. Good dentistry is about regularity and knowing someone's history, their anxieties, their experiences, and you can't buy that, or rush that. You can only hope to provide it, by saying this is what we offer because we have seen it proven to be the best."
It's more affordable than you think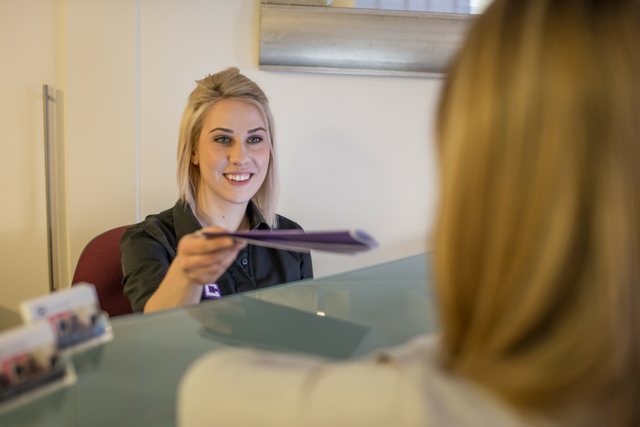 One of the main differences between using an NHS dental practice and a private dental practice, is the costs involved.
With packages to suit every budget, using a private dental practice for your check-up appointments means so much more than a check-up included – ensuring you get value for your money. Our Courtyard basics package priced at £9 a month includes a yearly check-up and a hygiene session, with our adult membership doubling the amount of check-ups and hygiene sessions a year.
However, our Dencare package is the most popular check-up plan we offer, includes two check-ups and two hygiene sessions per year. The Dencare package at £22 a month also includes free white fillings at no extra cost. That's less than half the price of a full Sky TV package! With white fillings starting from a minimum price of £125 each, there's the opportunity to save a great deal on the full cost of dental treatment.
But what exactly is a dental hygiene session? Well, quite simply, it's a deep clean in which your dental professional will clean and polish your teeth, and cleans the gums also. We consider it as essential maintenance, but done professionally.
The main difference between having a hygiene session and a deep clean done by yourself is that we have the capabilities to remove any plaque or tartar that you wouldn't be able to at home, and we are also able to clean aspects of your teeth that you wouldn't be able to.
By removing any tartar or plaque or any other bacteria around the mouth, we are taking steps to help prevent gum disease and tooth decay. Having a thorough clean of your mouth also combats halitosis (bad breath), caused by bacteria or decaying food particles that may be in your mouth. We also polish your teeth to ensure they are smooth, which means it's more difficult for plaque or stains to form again.
Any stains or discolouration should be removed as well, making your teeth look better than before you underwent the session, and providing you with the confidence to show off your smile.
With dental hygiene sessions lasting from quick visits of 15 minutes, to an hour and a half depending on the amount of tartar and plaque that needs to be removed, you'll feel confident that you're receiving the right treatment to improve your smile.
Better patient experience
Here at The Courtyard, our firm belief is that good dentistry is only delivered through regularity of attendance, meaning the more often we get to meet you, the more we can understand what you want to achieve, get to know you, and build trust with you as a patient – so we can advise you in the best possible way.
Everything we do as a practice is to put customer service first and we have strived to create a practice environment that is relaxed and enjoyable, with a friendly and welcoming staff. We provide check-ups and regular hygiene appointments for over 1300 patients and we pride ourselves on being able to offer personal, regular dental care.
Joanne Haveron, our patient here at The Courtyard talked about why she made the move to private dentistry: "From the first moment of meeting Marcos, he made me feel safe. He restored not only my teeth but my trust in dentists. Wonderful dentist, wonderful practice. Me and my husband are now registered at The Courtyard for check-ups under the Dencare plan."
With The Courtyard undertaking up to 50 new patient consults a month, you can rest assured that you have a dental practice that is embracing modern dentistry and continuing to invest in new technologies – all designed to offer the best in patient experience. So, if you want to start the new year by taking care of your teeth, and bringing back your confidence to smile, we're here to help.