"If a customer isn't happy then always offer to fix the issue at no cost to them." – Marcos White, practice owner and lead cosmetic dentist at The Courtyard.
With 2018 firmly underway, it feels like business is back to normal here at The Courtyard. We're already having a busy January looking after our patients and pressing forward to achieve our goals for the year ahead.
With so much to get stuck into this year, Marcos took some rare time out of his busy schedule to share a few thoughts about our practice, his emphasis on the great work cosmetic dentistry can achieve – and how he sneaks a biscuit now and again!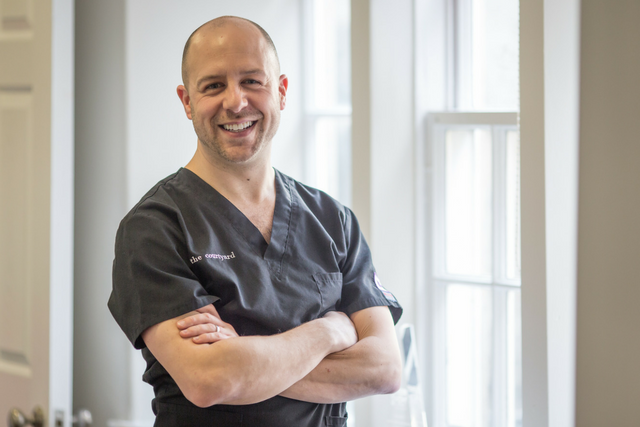 The following Q+A is an article in the series 'A Coffee with…' which originally featured in the Huddersfield Examiner on 4th January.
What is your business motto?
We think that everyone is entitled to a perfect smile and we want to make cosmetic dentistry – which constitutes 80% of our business at The Courtyard – as affordable and accessible to as many people as possible.
How do you make contacts which are useful for your business?
I use the usual networking opportunities and digital channels but, more often than not, our customers become really good contacts. They talk about us to their friends and families – a lot of our business comes via word of mouth and also from other dentists who are happy to refer their patients for specialist treatments that they might not offer.
What makes your business different?
I'd say the level of investment in the experience of having a treatment here, from the friendliness of our staff to the latest technology that we use.
What do you always have with you?
My Apple Watch featuring my calendar which always tells me where I need to be and what I need to do next – so helpful!
Do you dress-up or dress-down for business?
I go to work in a suit. I put my scrubs on for surgery and treatment but the suit's back on again if I go out for a sandwich or anywhere else. I like to look the part.
Which person has inspired you most in your business life and in what way?
I'm always reading business books – I'm inspired by the likes of Branson, Sugar and Jobs, people who started with nothing and worked hard to achieve success, figuring things out as they went along.
What's your proudest achievement in business?
We decided to go completely private, finishing our NHS work, at the worst possible time, just before the global financial crisis – but we survived. More recently, I'm proud of the award we were presented with by Invisalign to mark 500 treatments.
An increasing number of adults are looking to get their teeth straightened thanks to this new technology and I'm confident that Invisalign with overtake traditional braces in the adult market over the next five years. Our Invisalign customers, 90% of whom are women aged 25 to 35, range from brides-to-be who want to look their best for their wedding to busy mothers looking to do something for themselves.
What's your company's greatest asset?
It's an obvious answer but definitely our people and our friendly, professional working culture.
Do you use social media and if so with how much success?
Yes, we find social media is good for engaging in dialogue with potential customers. Instagram, particularly, is the perfect place for showcasing 'before and after' images of our treatments. Facebook is great for customers posting positive reviews of our services.
If you hadn't gone down your chosen career path, what would you be doing?
I've always been good at art and design – that's helped me shape the aesthetics of The Courtyard – so I'd have enjoyed something down that route.
Give us one tip for a successful business
Always pay attention to detail – what your place looks like, what your customers feel when they visit – and if a customer isn't happy then always offer to fix the issue at no cost to them.
At what time of the day are you most creative or inspired?
In the morning, with the full day and its challenges ahead.
How do you relax away from work?
With my family – I have four children, so I enjoy everything from cuddles with my baby daughter to being active and outdoors in the park with the older ones.
When do you take your coffee break?
At work I have a black coffee from our machine at 8am when I walk in the door and another at 1:30pm.
Who would you most like to have a coffee with?
I would love to have a coffee with Elon Musk, the chief executive officer of Tesla, the electric car company. He has all sorts of ambitions from building space rockets and putting people on Mars to revolutionising transport with pods in huge vacuum tubes – I think he's the most innovative person on the planet at the moment.
What's your coffee break favourite?
Well, as a dentist I try to lead by example and keep sugar to a minimum, but I do sometimes go into the staffroom and look for the biscuit tin. If I'm lucky, there might be some treats that happy customers have brought in for us – unless my colleagues have got to them first!